Queer Ephemera #1: Divine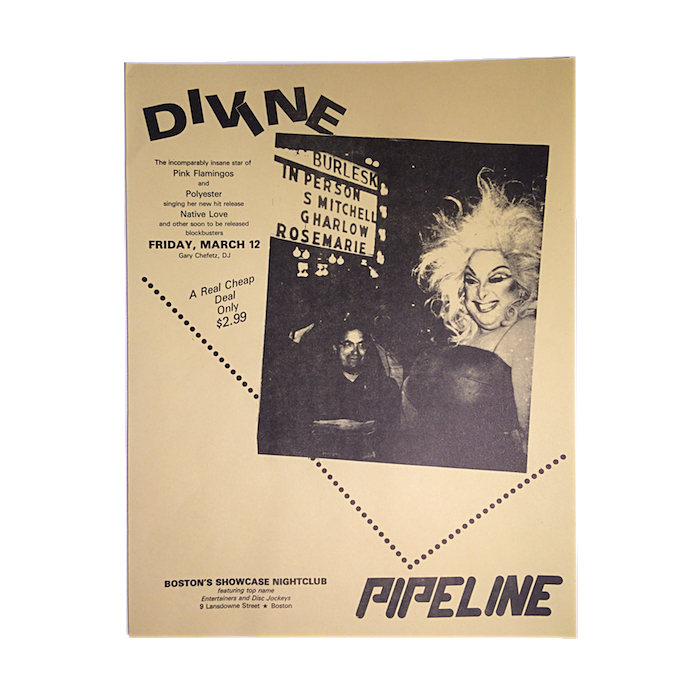 Queer Ephemera #1: Divine
Divine at "Pipeline" Friday, March 12th [ca. 1982]. Boston's Showcase Nightclub, 9 Lansdowne Street, Boston.
2 documents, a photocopied flier ca. 1982 (22 x 28cm) and a printed description, both in a 35 x 24 document wallet. Edition size: 40.
In 1981, drag queen Divine (Harris Glenn Milstead) set her sights set on breaking into the disco scene. When this flyer was made and photocopied around 1982, Divine was already a cult figure from her appearances in John Waters' films like Pink Flamingos (1972) and Polyester (1981), both of which are referenced here to justify Divine as an "incomparably insane star." The "hit" mentioned—"Native Love"—was released with seven other tracks in My First Album (1982) and later re-issued on The Story So Far (1984). Her drag performance of "You Think You're a Man," from the musical Kinky Boots, on The Top of the Pops in 1984 was controversial, in keeping with an edge she had maintained in all her work and until death in 1988. Both on stage and screen, Divine was a virtuoso of transgression whose style continues to inform drag today, no matter the queen. But her style was always true to her low-budget Baltimore roots and in keeping with that this Boston performance was "A Real Cheap Deal."
Kate Eichhorn gives a past and a future context to the world in which this joyful flyer was made and photocopied in Adjusted Margin: Xerography, Art, and Activism in the Late Twentieth Century when she writes: "The role of xerography in the AIDS activism and queer rights movements was likely also due to the fact that many of the people involved in these movements…were also active participants in or at least influenced by the aesthetics of the downtown art and punk scenes, where xerography had already become synonymous with a particular attitude, style, and politics. (114)" Eichhorn quotes the artist and AIDS activist Joy Episalla: "With xeroxing and wheatpasting, we could own space." As a counter-cultural icon working from the 1960s to the -80s, Divine's work and influence spans exactly this period where xerography & punk aesthetics informed the creation of queer urban spaces.

ABOUT THE SERIES
Queer Ephemera aims to preserve & circulate printed works that have outlived the day to day events and spaces they describe. While the moments described in ephemeral items—such as postcards, newspapers, posters, flyers, matchbooks, business cards—have come and gone, their survival in the form of ephemera is important to understanding how queer and gender non-conforming people have lived in the past, how they kept in touch with one another on a day by day basis. In recovering lost worlds these documents are meant to create new potential: to inspire, to be copied, to be recreated, to be historically reenacted, imitated, channeled, altered, improved. Finally these documents are meant change the way you think of your own habitation in the world, to make you want to create your own archive, keep each slip of paper that speaks to something dear to you, and imagine the worlds of possibility they too will one day create for others.