Gay Oppression and Liberation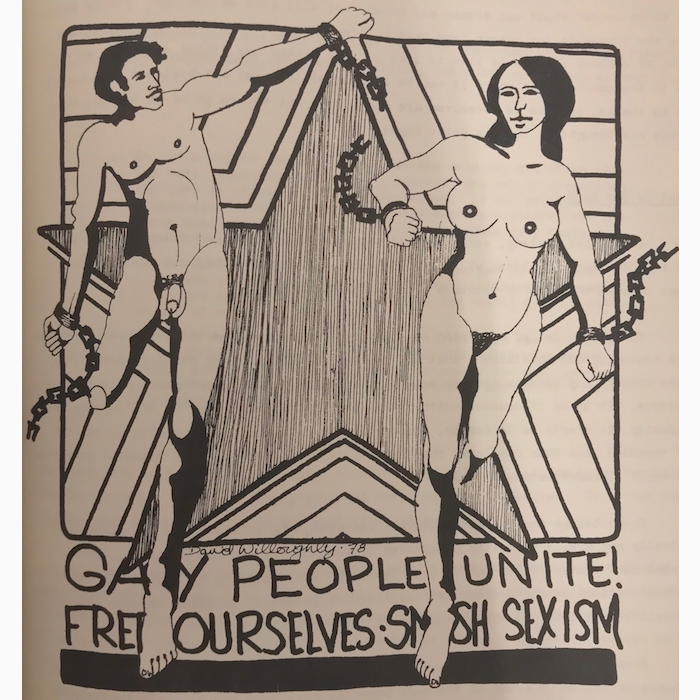 Gay Oppression and Liberation
Or; Homophobia: Its Causes and Cure.
The Gay Theory Work Group of the Movement for a New Society.
Philadelphia: The Philadelphia Resistance Print Shop, June 1977.
134 pp. Staplebound reproduction from typescript "working draft" in orange wraps, a few light creases and signs of minor wear on covers, contact information for "Black Hills Coalition" on back, gold sticker of Together Books, Denver CO on inner front cover, illustrated throughout, in good condition.
ABOUT THIS BOOK
A powerful example of a collaboratively authored publication meant as a tool for organization against oppression. According to Mark Killinger in his 1977 review, the premise of "this exciting and useful document" authored anonymously by two lesbians and two gay men is "that lesbian and gay oppression is an inherent part of capitalist and particularly patriarchal dominance," and so any movement toward liberation must fight again capitalism and in solidarity with other marginalized groups. The work that follows is comprehensive and still relevant: half of the book is educational, offering a history of "the system of gay oppression" and a useful theoretical analysis, particularly drawing from socialist-feminist perspectives. The other half—"A Strategy for Revolution"—is a highly practical breakdown of the gay liberation movement itself, moving from separatist lesbian-feminist groups toward building solidarity for "Gays All Together." The work concludes with discussion of the practicalities or "Next Steps," toward implementing theoretical understanding of oppression, working from within the Movement for a New Society broader social contexts. One key area of resistance advocated for by the authors is their concept of "Androgyny," which amounts to gender abolition: "In the new society, the images of 'masculine' and 'feminine' will disappear….Social expectations according to whether a person is female or male will be dropped" (54-55).
The Movement for a New Society (MSN) was a network of non-violent collectives that were set up around the USA in the late 1960s, after the example of the Philadelphia Quaker anti-war movement (A Quaker Action Group, or AQAG). Its primary philosophy was to apply non-violent direct action after the example of Ghandi to address social change. With many members located in the Philadelphia area, the MNS gained momentum in tandem with the anti-nuclear movement of the 1970s, but experienced decline in the 1980s and was ultimately dissolved by its members in 1988. This "working draft" of a sub-group appointed by the MSN was produced by the Philadelphia Resistance Print Shop, a center of publishing for the radical left in Philadelphia including prominent LGBT publications like The Gay Alternative. So from its collective authorship, its open call for addition and revision, and its production in a hub for intersectional, cooperative struggle, the object itself embodies much of the politics its text describes.
FURTHER READING
Mark Killinger, "Lesbian and Gay Oppression in the '80s: Androgyny, Men and Power," in Pink Triangles: Radical Perspectives on Gay Liberation, ed. Pam Mitchell. (London and New York: Verso Books, 2018).