Living With AIDs and Fighting Back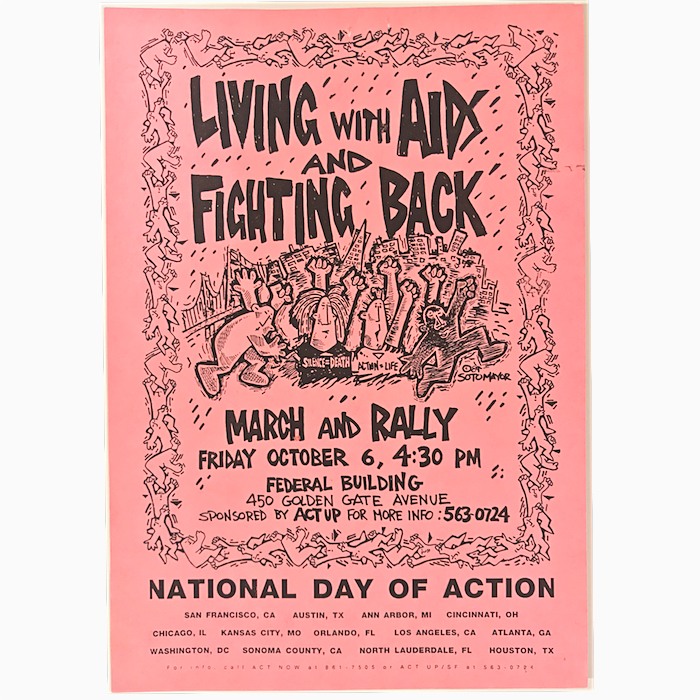 Living With AIDs and Fighting Back
[Daniel Sotomayor, illustrator]
"Living With AIDS and Fighting Back"
San Francisco: ACT UP SF, 1989.
Photocopied flyer, 201 x 104 mm, staple holes on head, otherwise in very good condition.
ABOUT THIS FLYER
A highly charged object bearing witness to an important day in AIDS activism and queer history more broadly. On October 6, 1989 as part of the National Day of Action advertized here, around fifty protestors blocked Market Street, sitting down and linking arms. Their cause was—like groups before them such as the AIDS Action Pledge—to raise awareness about the confluence of racism, classism, and homophobia that lie behind the U.S. government's refusal to address the AIDS crisis.
As hundreds of other protestors watched, the San Francisco Police descended upon those linking arms, beating them bloody with their batons and running their motorcycles into the crowd. Reinforcements in riot gear were called in while the violence continued, and in order to trap protestors closed the entire area around Castro Street, a historically queer neighborhood in the Bay Area. The incident became known as "The Castro Sweep" and from the moment of bloodshed inspired an addition to ACT UP SF's protests: against police violence, with chants of "Cops go home," and "Racist, sexist, anti-gay, SFPD go away." That evening around 2,000 protesters gathered at Harvey Milk Plaza and marched through the Castro, and they met again the following evening to "reclaim" the Castro for queers with banners reading "The Castro Is Ours."According to Gerard Koskovich, whose firsthand account of police brutality at the rally has been recorded in a chapter of Out in the Castro: Desire, Promise, Activism (2002), the event was a "Stonewall for a New Generation," prompting protest and collection action against police brutality in the years that followed among ACT UP and Queer Nation.

Not only does this slip of paper document yet another moment when queer people refused to be silenced and savaged by the police, but it also preserves the art of a central figure to ACT UP's work across the U.S.A: Daniel Sotomayor (1958-1992). Sotomayor was a central figure to ACT UP Chicago, but his art travelled much wider—he was the only openly gay political cartoonist to be nationally syndicated, publishing over two hundred weekly cartoons that showed the struggles of those living with AIDS (Sotomayor himself was diagnosed in 1988 and died at age 33 in 1992). On the basis of his acerbic wit and tireless energy, a Chicago Reader profile on Sotomayor summed him up as "The Angriest Queer." In 2010, the Institute of Puerto Rican Arts & Culture featured a retrospective of Sotomayor's work, "A Hero Comes Home," celebrating its enduring relevance and vibrance, as remains preserved in his illustration of this flyer, which embodies every bit of the spirit of the March, "Living with AIDS and Fighting Back."
FURTHER READING
Gerard Koskovich, "Stonewall for a New Generation," Copblock, https://www.copblock.org/38730/the-castro-sweep-24-years-ago-today/.
Visual AIDS, "AIDS Activism and Beyond: Radical Queer Politics of the '80s and 90s," The Visual AIDS Blog, https://visualaids.org/blog/aids-activism-and-beyond-radical-queer-politics-of-the-80s-and-90s.
Albert Williams, "The Late Cartoonist and AIDS Activist Danny Sotomayor on Exhibit," Chicago Reader, https://www.chicagoreader.com/Bleader/archives/2010/01/11/the-late-cartoonist-and-aids-activist-danny-sotomayor-on-exhibit
Joseph Crump, "The Angriest Queer: Not even the shock-brigage theatrics of ACT UP can contain the rage of Danny Sotomayor. He's too mad to talk and too busy to die," Chicago Reader,
https://www.chicagoreader.com/chicago/the-angriest-queer/Content?oid=876178